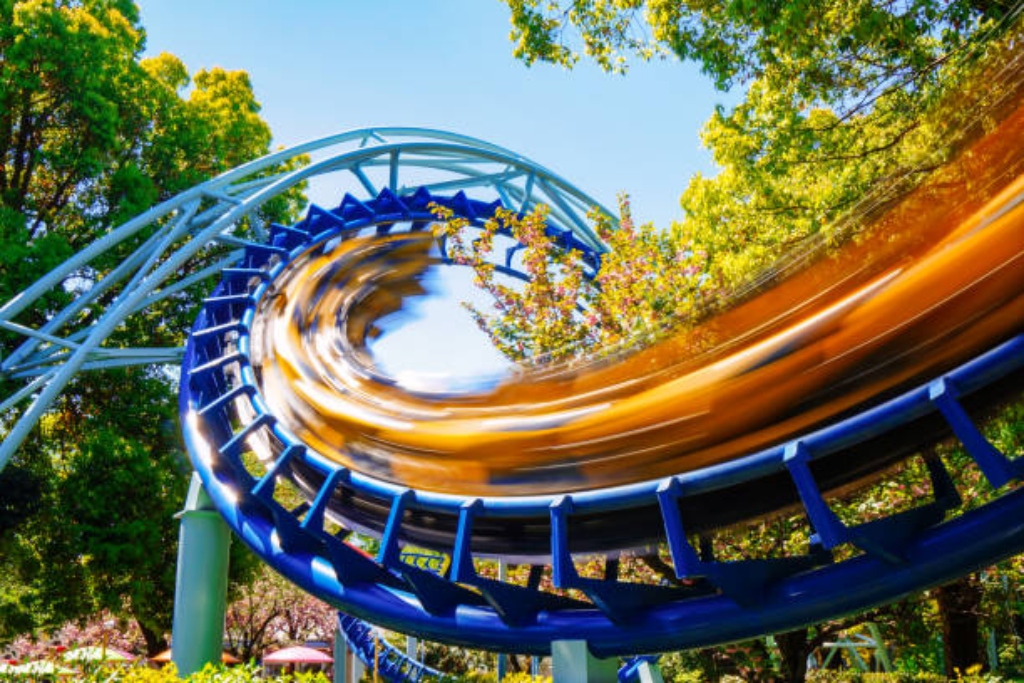 Top UK Theme Parks 2022
Theme parks transport us to a world where white knuckle rides shake us to our core, teacups twist the tot's to a happy place, cotton candy and sugar donuts become part of a balanced diet and of course, screaming is all part of the fun!
 
Dwell on those theme park memories for just a moment, the sights, smell, and sounds….
 
Now answer this, is any summer complete without a trip to at least one theme park?
 
If you are of the same mind as us and love theme parks just as much as we do, then why not take advantage of Kids Pass's great theme park discounts and build some memories?
 
We have amazing offers to Flamingo Land, Blackpool Pleasure Beach and many more!
Flamingo Land - North Yorkshire
A big family day out in North Yorkshire with a theme park and zoo to see!  There are plenty of white-knuckle rides here, including Kumali – the rollercoaster that twists and loops over the lake pulling a stomach-churning 4.7g. Younger kids will love the big splash at the end of the Lost River Ride and the thrilling Voodoo swing boat ride skimming over the river.
 
If you need a break from the rides, the Splish Splosh interactive water play area and HMS Bouncy indoor soft play area are suitable for all children. Or why not check out some of the lives shows that are hosted daily, such as the Sea lion show, the Bird show, Pirates of Zanzibar! All fantastic for the entire family!
 
After your visit, why not stay over at the holiday resort with its own spa and leisure complex?
 
Click here for 30% off gate prices
Gulliver's World - Warrington
A great day out at this Cheshire theme park for children under 12 with more than 25 rides to choose from, including the excitement of the Desperado Drop tower and wet 'n wild fun of Apache Falls. Little tots can do lots with mum or dad, such as the Jurassic Park themed jeep ride 'Dino Safari' and the Adventure Canyon water ride. 
 
Don't forget If you can turn your visit into a short holiday at Gulliver's Hotel & Lodgings.  If this Warrington venue is too far for you, there are other Gulliver's theme parks at Matlock Bath, Milton Keynes and Rother Valley.
 
Click here for up to 30% off gate prices
Blackpool Pleasure Beach - Lancashire
Walk directly from the beach into a world of thrills and excitement in Blackpool. Challenge your teens to twist and loop on 'Infusion' or to brace themselves for the big drop on The Big One!  Don't want to spend your day queuing?  Then pre-book the big rides with Speedy Pass.
 
Little kids will enjoy a day at Nickelodeon Land with 12 rides just for them, plus the chance to meet stars from their favourite TV shows.
 
Drayton Manor - Staffordshire
Come on down to Tamworth in Staffordshire for a day out to remember with over 100 theme park attractions, plus a zoo – all set in over 100 acres of beautiful parkland (under 2's go free).  Push yourself to the limit on high adrenaline rides such as Maelstrom and the 54-metre drop, Apocalypse. 
 
Take your little ones to Thomas Land and enjoy over 25 gentler Thomas The Tank Engine themed rides, including the Bertie Bus mini roller coaster! Other attractions include Emily's indoor soft play area, the Dino Trail and Crazy Golf. 
 
Best theme park discounts nationwide
Alton Towers - Staffordshire
'In The Hall of the Mountain King' will forever remind you of your perfect family day out in Staffordshire, at one of the UK's top theme parks!  Here you can scare the living daylights out of your older kids on the headline rides, such as Nemesis, Oblivion and Rita.  Why not pre-book fastrack tickets on the most popular rides so they can do more? 
 
Don't forget to head for Cbeebies Land near the park entrance too and take your little ones on the Go Jetters Vroomster ride before popping indoors to one of the live shows. 
 
Don't forget Kids under 3 go free.
 
Best theme park discounts nationwide
Oakwood Theme Park - Pembrokeshire
Buckle up for the thrills of a lifetime at Oakwood theme park near Narberth in South Wales!  Are you brave enough to pull the cord on the UK's tallest sky swing, Vertigo? How about plunging 100 feet into a tidal wave of water on Drenched?  Little ones have their own excitement in Neverland where there are rides for all ages.
 
Click here and one child goes free using Kids Pass
Thorpe Park - Surrey
Thorpe Park in Surrey is a place for thrill-seeking older kids.  Here they can reach 80mph in under 2 seconds, pull up to 5G in a diving spin and drop 85 feet into a tidal wave of water – enough for any teenager!  If not, let them evade the zombies on the Walking Dead rollercoaster and break free of the Black Mirror Labyrinth. You can fastrack them onto the most popular attractions.
 
There are rides here for little ones too with dodgems, swingboat rides and the Flying Fish rollercoaster. Kids under 3 enter the park free of charge.
 
Best theme park discounts nationwide
Camel Creek - Cornwall
Just over five miles from the North Cornish coast lies Camel Creek Adventure Park, named after the nearby River Camel (sadly no camels here)!  It's an action-packed visit for kids under 10 with a big selection of rides, including the bumpy Clown rollercoaster, Cranky's log flume and the bouncy Swampy's Drop tower. 
 
For rainy days there's Creeky's indoor playhouse and a 5D Simulator Theatre. Don't forget to say hello to the Swampy and Dina characters in the park!
 
Pre-booking is essential.  Free car parking.  Open at weekends from 10am (after summer holidays). Kids under 92 cms enter free of charge.
 
Click here for up to 38% off tickets
Legoland - Berkshire
Everyone loves Lego and, at this Windsor theme park, you can spend a whole day with these colourful bricks! The Park is divided into 12 themed zones, including the new Lego Mythica land with the Flight of the Sky Lion 'theatre ride' centrepiece. Here you will buckle into your theatre seat for a journey into Mythica where Lego creations come to life.  The 4K film is perfectly synchronised with special sensory effects and your seats move as you evade lava, soar into the sky and drop back to earth.  Duplo Valley is designed for the little ones with trains, planes and wet 'n wild Drench Towers.
 
Legoland has two themed hotels so you can turn your visit into a family short break.
 
Children under 90 CM's visit the park free. 'Reserve & Ride' is available at extra cost.
 
Best theme park discounts nationwide
Chessington World of Adventures - Surrey
There's a lot going on at Chessington theme park in southwest London with over 40 rides and attractions in 10 zones to occupy the whole family.  The new 'Croc-Drop,' is a 25m plunge into the giant jaws of Sobek, the ancient Egyptian Crocodile God and protector of the Nile. Want something quieter?  Kids of any age can star in a Julia Donaldson 'Room on the Broom' movie with a take-home copy featuring them on the broomstick (additional charge).
 
Day tickets include entry to the theme park, zoo and SEA LIFE centre and tickets come with a rainy-day guarantee (you can come back for free another time). Pre-book online.
 
Best theme park discounts nationwide