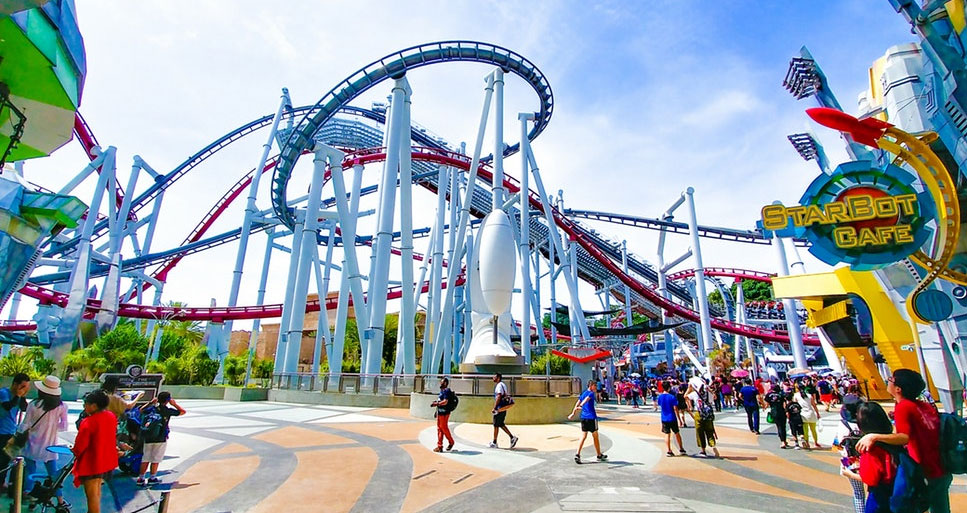 When are Theme Parks Reopening?
With end-of-lockdown plans announced throughout the UK, Theme Parks are officially gearing up to welcome back families throughout the country, with the good news for many parents being that many will open their gates in time for the Easter holidays!

For all families chomping at the bit for some theme park fun, we've pulled together a guide on all the latest information and when you can expect to start making up for lost family-thrill time.
Alton Towers Resort
Alton Towers Resort has revealed it is set to reopen its theme park and selected self-contained accommodation on April 12th, as part of the UK's second step in the end-of-lockdown roadmap. With no confirmation at present if any annual pass or preview days are before, this will be the first day for regular guests.
The resort has worked tirelessly to put Covid-safe and hygiene measures in place, including temperature checks on arrival.
Thorpe Park
Thorpe Park Resort, the home of thrilling coasters is also set to open its doors on Monday 12th April. Thrillseekers are advised that pre-booking is essential to manage Covid safety.
Using Kids Pass is one way to support your local businesses & attractions. By providing more deals & discounts than ever before, we hope to continue to allow families to save whilst also allowing attractions to get people through the door!
Twinlakes
As per the government's plan, Melton Moybray's famous Twinlakes have been releasing tickets for the first 5 weeks of opening from 12th April to 16th May. Annual Pass holders can also pre-book free of charge.
Great Yarmouth Pleasure Beach
Despite some information stating Great Yarmouth Pleasure Beach will open on March 20th 2021, the theme park on the South East coast has now confirmed gates will re-open on April 12th in line with government guidelines
Gulliver's
Gullivers' 4 fantastic resorts, Gullivers World (Warrington), Gullivers Land (Milton Keynes), Gullivers Kingdom (Matlock Bath) and Gullivers Valley (Rotherham) are all now available to pre-book, with the first date available being April 12th . The theme parks, designed for children aged between 2 to 13 in mind, will sure to be a hit with younger families in 2021.

Gullivers also enables you to book with confidence if plans or conditions change in advance of your booking.
Blackpool Pleasure Beach
Customers can book back into Blackpool's Pleasure Beach, the nations most iconic theme park, as early as April 12th. Customers are also encouraged to book in advance in order to get the cheapest admission fees and avoid disappointment.
Flamingoland
Yorkshire's ultimate theme park destination has hinted at a grand re-opening soon in line with latest government guidance set out by Boris Johnson.
However, pre-bookings are not yet available at the time of writing. Discounted tickets & deals will be available in our app once bookings are available.
Drayton Manor
Drayton Manor has announced they plan to safely open their park on April 12th, barring any changes to government advice.
Chessington World of Adventures
Chessington World of Adventures Resort has provided an updated 2021 calendar via a statement on their website. The Theme park is planned to reopen on 12th April, with hotels and explorer glamping not yet having a confirmed date.
With the planned opening of a brand new family-friendly drop tower that is expected to be called Croc Drop, Chessington have an exciting season ahead of them!
Legoland Windsor
Although their hotels remain closed, Legoland's Windsor resort will also start to welcome families from April 12th and beyond.
Other Theme Parks
Information on more Theme Park reopenings such as Crealy, resort Greenwood Forest Park, Oakwood Theme Park, Adventure Wonderland and more can be found on their respective websites. Please keep an eye on this page for any further updates.