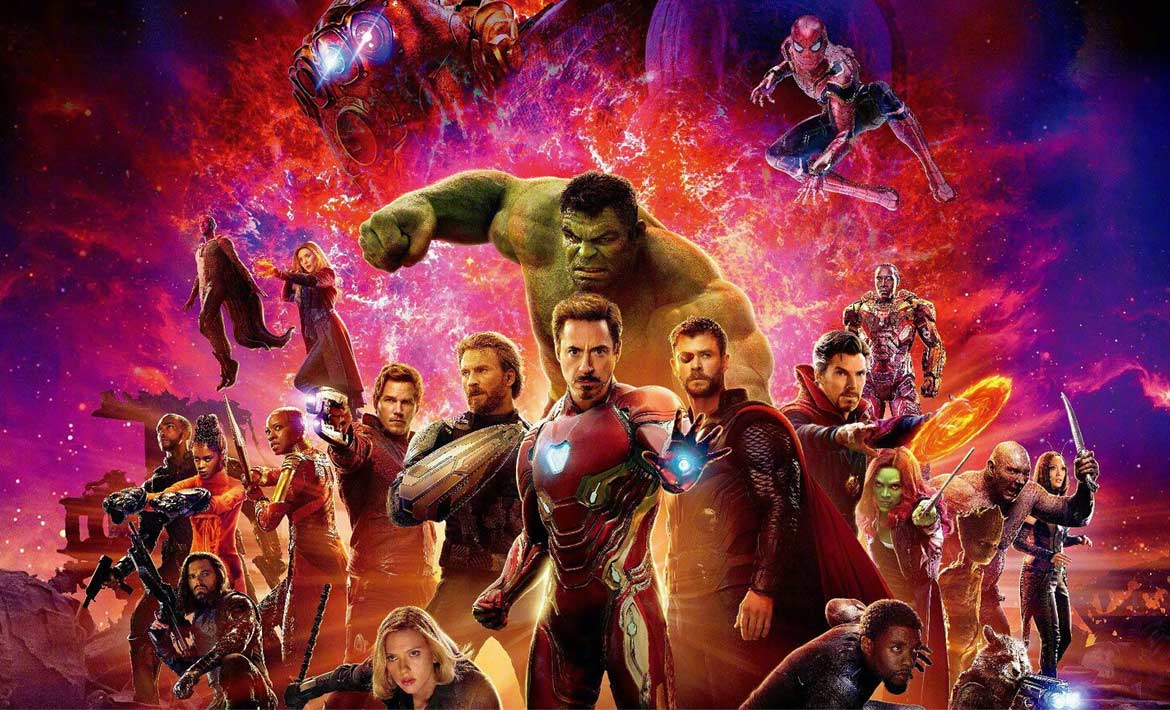 Perfect for those rainy days, a trip to the cinema is something all kids look forward to. We've got the low-down on the latest and upcoming movies to a cinema near you, and how to make your cinema trip more affordable!
Avengers: Infinity War
In Cinemas NOW / Age rating: 12A
We know the older kids will be dying to see the latest Marvel flick… As all your teens' favourite superheroes reunite once more in Avengers: Infinity War! Be prepared for the ultimate, deadliest showdown of all time…
The Avengers and their Super Hero allies must be willing to sacrifice all in an attempt to defeat the powerful Thanos before his blitz of devastation and ruin puts an end to the universe. There's plenty of eye candy for the mums too, who can say no to Chris Hemsworth AND Chris Pratt?
Get up to 40% off your tickets for Avengers: Infinity War here
Peter Rabbit
In Cinemas NOW / Age rating: PG
If you haven't hopped to the cinema yet to see Peter Rabbit, we recommend taking the kids this weekend as your rainy day out. This happy, hoppy family film will keep them giggling for a couple of hours as you relive the characters from your childhood – Peter Rabbit, voiced by James Corden, is back with his furry friends, causing havoc in Mr McGregor's garden.
This contemporary twist on Beatrix Potter's classic has absolutely smashed the UK box office this springtime, so grab your popcorn and sit back.
Book tickets to see Peter Rabbit, with up to 40% off Adult and Child tickets
Early Man
In Cinemas NOW / Age rating: PG
Brought to cinemas by the creators of animated classics Wallace & Gromit and Chicken Run, comes 'Early Man'. Set at the dawn of time, when prehistoric creatures and woolly mammoths roamed the earth, Early Man tells the story of Dug, along with sidekick Hognob as they unite his tribe against a mighty enemy Lord Nooth and his Bronze Age City to save their home.
You'll recognise the all-star British cast voicing the amusing animations, from Eddie Redmayne, Tom Hiddleston, Game of Thrones' Maisie Williams, Harry Potter's Timothy Spall and the hilarious Richard Ayoade. 'Early Man' is solid family entertainment that the little ones will love on a rainy day this half term.
Get up to 40% off your cinema tickets, 7 days a week
Sherlock Gnomes
In Cinemas Saturday 5th May / Age rating: PG
The gnomes are back! After a string of garden gnome disappearances in London, Gnomeo & Juliet look to legendary detective Sherlock Gnomes to solve the case of their missing friends and family.
Sherlock Gnomes is a fun, colourful film for your younger tots to enjoy at the cinema, and is out on Saturday 5th May, perfect if you're looking for something affordable and fun for that weekend!
Show Dogs
In Cinemas Friday 25th May / Age rating: PG
Be prepared for this comical adventure of Max the macho, police dog who is ordered to go undercover as a primped show dog in a prestigious Dog Show, along with his human partner, to avert a disaster from happening.
This American comedy is full of laughs and woofs that your younger ones will love.