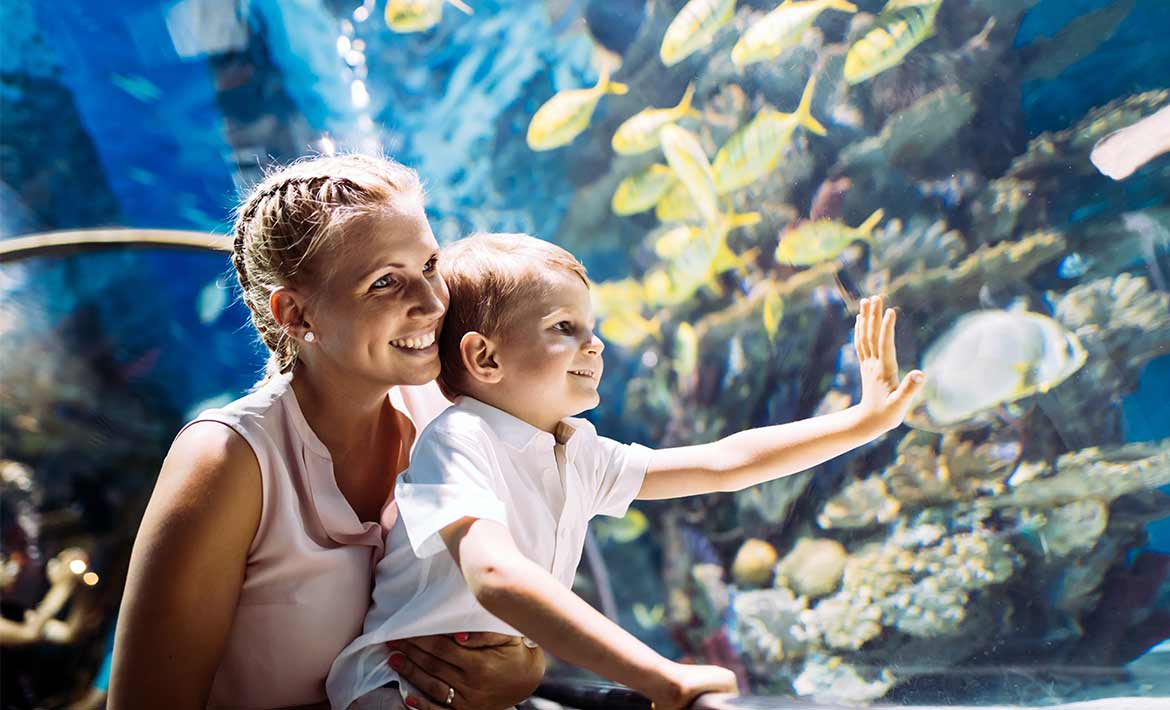 Visiting one of the UK's many brilliant aquariums is a special day out for your little ones, and now that the days are getting darker and colder, it can be tricky trying to think of exciting, indoor things to do with the kids.
So, if you're looking for the aquarium zoo near you, and the best voucher codes, have a sneak peek below.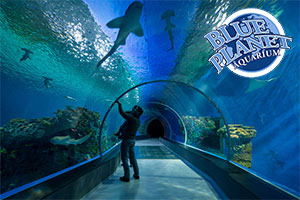 Redeem Kids Go Free to Blue Planet Aquarium with this voucher
If you live in the Cheshire region, you should definitely treat your kids to a day out at Blue Planet Aquarium! Situated in Cheshire Oaks, Blue Planet has a huge range of exotic exhibits and amazing activities for your family to enjoy. Home to one of Europe's biggest shark collections in their breath taking 'Shark Tunnel' your family can even go diving with 10ft Sand Tiger Sharks! 
For the less adventurous there are daily dive shows where a presenter will tell you all about the fascinating creatures you'll see swimming by.
And you definitely don't want to miss the adorable outdoors Otter enclosure which is one of the largest in the UK! Nobody can say no to Otters!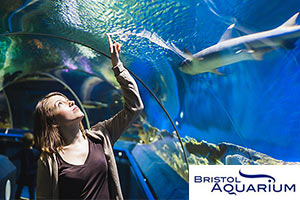 Redeem your Kids Go Free voucher to Bristol Aquarium here
Located in the Southwest of the UK is the brilliant Bristol Aquarium, a really special aquarium with lots of multi-sensory activities for your little ones.
Featuring over 40 naturally-themed displays that are home to thousands of amazing aquatic creatures, Bristol Aquarium is also the ONLY aquarium in the UK to feature a giant botanical house, 'Urban Jungle', showcasing hundreds of exotic plant and tree species from around the globe.
There's also a 'learning lab' where your little ones can get up close to baby seahorses, sticklebacks, sole dab and even baby sharks in their nursery displays. Every Mon, Weds and Fri you can experience feeding time and learn more about the incredible seahorse species.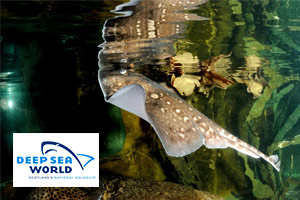 Claim Kids Go Free to Deep Sea World in Scotland here
For those of you that live in Scotland check out Deep Sea World in North Queensferry! Deep Sea World has an Underwater Safari, which, at 112 metres long, has the longest moving walkway in Europe. The exhibit holds a million gallons of sea water, making it the largest temperate marine exhibit in the UK and one of the longest underwater safaris in the world!
Deep Sea World also offers your kids the chance to meet seals! Their seal enclosure opened in Spring 2005 and is home to the UK's resident common seals.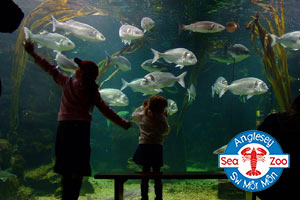 Redeem Kids Go Free to Anglesey Sea Zoo here
Anglesey Sea Zoo is a unique aquarium, as it displays the best of British marine wildlife!
You won't find large sharks, tropical fish or sea turtles – instead you'll find fascinating creatures from around our very own UK coasts, such as octopus, lobsters, seahorses, conger eels and small British catsharks!
Your family will learn about British marine habitats and the research and conservation work which is helping to save our UK sea life! What makes this aquarium an even more memorable day out is you can stroll along the shores of the picturesque Menai Strait.
At Anglesey Sea Zoo you can also choose your very own pearl oyster in their Gift Shop and watch while it is opened, cleaned, valued and even set in jewellery. A beautiful, unique gift idea or souvenir!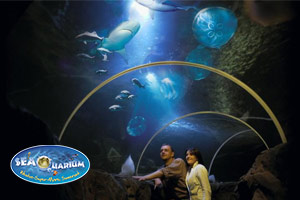 Get 2 for 1 tickets at Seaquarium in Somerset with this voucher
SeaQuarium Weston is situated on it's own unique pier on an amazing stretch of golden sand in the heart of Weston-Super-Mare, showcasing one of Somerset's finest coastline.
Weston SeaQuarium is an all-weather Award-Winning Family Attraction, committed to creating a fun and hands-on atmosphere to explore the amazing underwater world. The aquarium showcases a range of freshwater, marine and tropical species from around the world in 10 different zones.
With over 30 exhibits, and species ranging from lionfish and jellyfish to sharks and rays and hands on close encounters and presentations all included in the price of the admission ticket, you will be kept enthralled throughout your visit.
So, when you are looking for days out in Somerset, a visit to SeaQuarium in Weston-Super-Mare, is a great thing to do with the kids and really is tops for fun days out!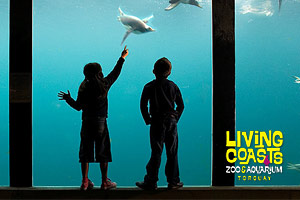 Get up to 30% off your Living Coasts aquarium day out here
Living Coasts, Torquay's award-winning coastal zoo and aquarium, is an all-weather attraction, located on Torquay seafront in South Devon and is open every day (except Christmas Day). Living Coasts is home to a magnificent array of marine life from around the world!
Mingle with the playful penguins, get up close to the otters, octopus and seals, and much more. Be sure to visit Penguin Beach to walk with the African and macaroni penguins and catch the entertaining feeding time talks.
Below the decks the fun doesn't stop. With more fascinating habitats and creatures, there are games, activities and panoramic underwater viewing areas for our stunning species..
Looking for the best aquarium near you? Browse all of our aquarium offers here.