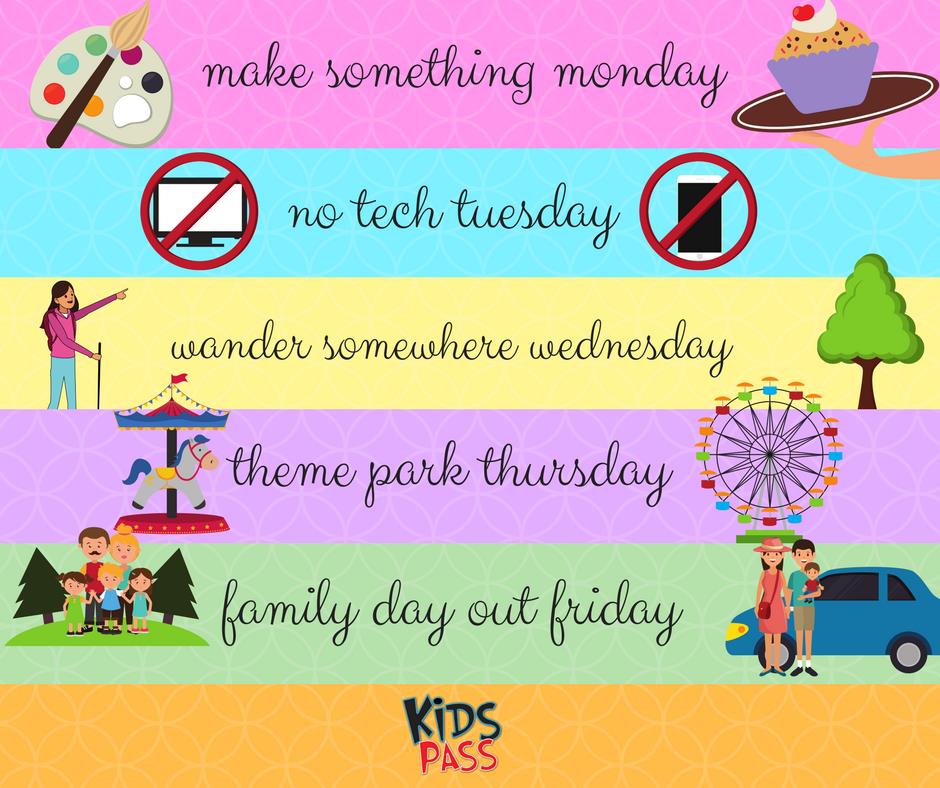 If you had £1 for every time your child cried 'I'm bored, there's nothing to do!' you'd be lying on a beach in the Maldives with a cocktail in your hand. But unfortunately, that's not how it works. When you hear that boredom claim, it's your role as Mummy to think of something to do! Why not try our fun summer plan that covers you Monday to Friday these summer holidays?
1. Make Something on Monday
Kids love nothing more than getting their hands messy, so make something this Monday. Indoor activities at home are cheap, wholesome ways to keep your children enterained during the holidays. If your little ones love baking, nip to the shops for any ingredients you're missing to make some colourful fairy cakes, or perhaps you have an arts and craft box in the cupboard that your tots will magically turn into something to put on the fridge!
2. No Tech Tuesday
It's safe to say that kids nowadays are as tech-savvy as ever, with texting and apps being second nature to them (and definitely not to us...) So why not try a No Tech Tuesday this summer holiday? That means the whole family, no phones, no computers, no tablets, no TV full stop! This is a wonderful chance to get that quality family bonding time that we miss out on nowadays in our world of Netflix, Spotify and Instagram. Instead, why not go for a family picnic at your local park and feed the ducks, go for a bike ride, a family game of rounders, plant some plants and help dad with the gardening, explore a country town you haven't visited and take some photos, get together with your friends and have a meal.
3. Wander Somewhere Wednesday
During the holidays nothing beats getting the kids and hubby outdoors, away from work and video games and into the fresh air! Go for a lovely walk, or day out - even if it's just around the block to your local restaurant for a spot of lunch. Search the Kids Pass app for an adventure somewhere you haven't experienced before! With all the green, bushy trees and beautiful blue skies (if you're lucky!) you don't want to waste your summer indoors! If you've got a doggy, we know he'll love to wander somewhere on Wednesday - or everyday!
After a week of pretty much cost-free activities with the kids, treat them to a day out at a big theme park near you! The summer holidays wouldn't be complete without a thrilling day at a theme park where your kids can let loose on rollercoasters with their friends and make the biggest and best memories before they go back to school. If you're looking to keep the cost low, have a look here at what discounts Kids Pass offer with major and local theme parks across the UK.
It's Friday! Time to get everyone together on a family day out, including Granny and Grandad! Start your weekend right with a family fun day, whether that's simply going for a delicious meal and having a night off cooking dinner or perhaps you want to venture somewhere exciting local to you - have a look here at Kids Pass' offers on days out near you. And if all else fails, there's always a cinema trip, with Despicable Me 3, Cars 3, The Emoji Movie and Son of Bigfoot out in all cinemas, the kids won't know what flick to pick! Don't forget to use your Kids Pass and save up to 40% on your adult and child tickets, popcorn and drinks!