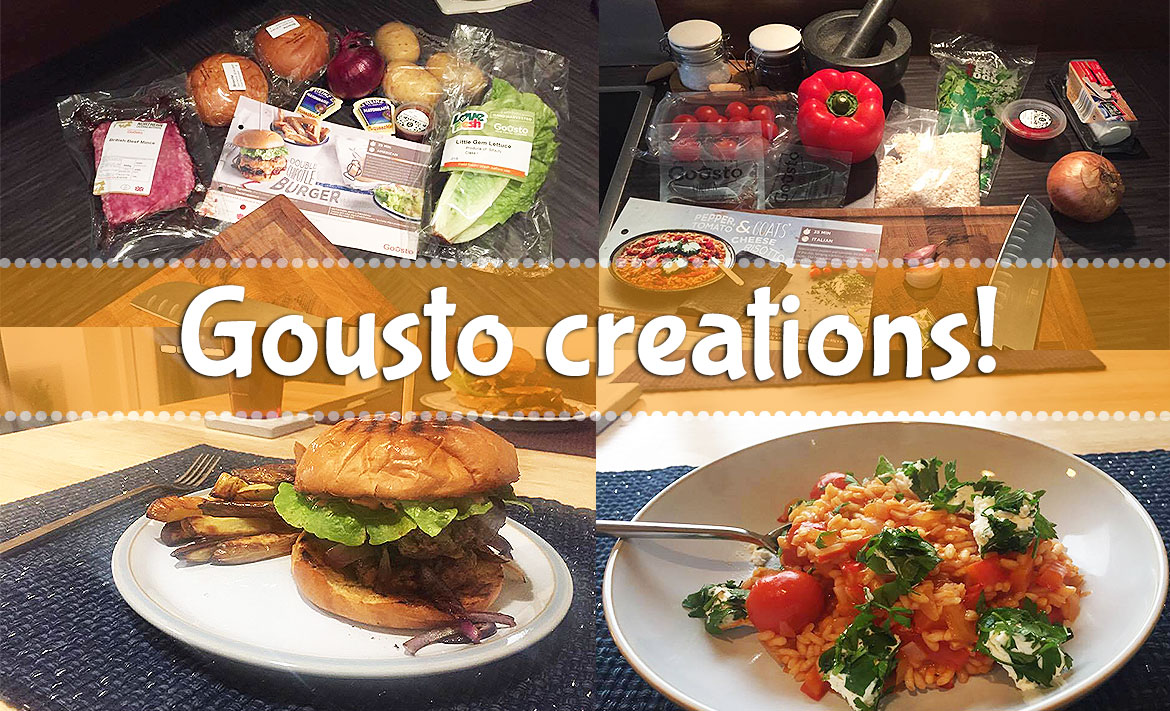 Hi, I'm Meg!

I'm a good cook, but I'm quite lazy in the kitchen to be honest! When I get back from work, I'm more likely to heat up a can of soup or a ready meal, than spend time in the kitchen.
For this blog, I first tried to channel my inner house-wife, which means I essentially shopped for the evening, prepped and cooked after work and let me tell you, I did not find it easy!
I did find out a few things though;
My laziness is genuinely bone deep. I was tired all the time! How do you do it??
There was a lot of wasted food – between the dish being unwanted or I'd made the portion sizes too big to finish, I just wasn't having much luck!
Shopping every day cost an absolute fortune! Doing a big weekly shop probably would have been more cost effective, but that is some next level organisation skill you have, if you can fully plan your family's meals for the whole week!
My next step was to order my Gousto box. I looked at the website at all of the wonderful recipes and got my mouth watering just thinking about cooking them! I decided to opt for a box of three recipes with a mix of vegetarian and non-vegetarian recipes.
Each box can include up to four recipes and can cater for 2 or 4 people!
It comes looking a little bit like this – excuse the shoddy pictures, I was overly-excited when it came: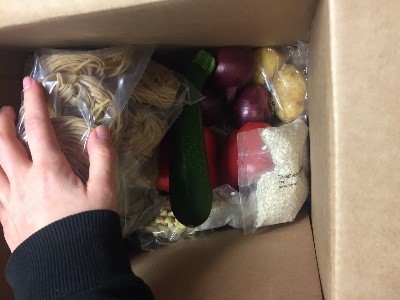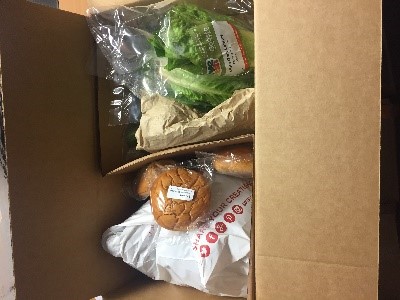 I decided to go for three, so my menu looked like this;
RECIPE ONE
I was super excited to try these recipes out because they all looked so amazing! We decided on the Double Chipotle burgers to start because they looked the easiest and we were feeling a bit like some fast food!
First thing you notice is that the prep time was easy! Mix some seasoning with the mince, chop up some potatoes and buns and really the job was done! You could then get down to frying the burgers (and getting covered by the spitting oil) in no time!
Here is where we started: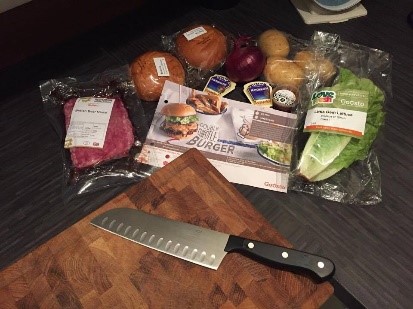 And here is where we finished: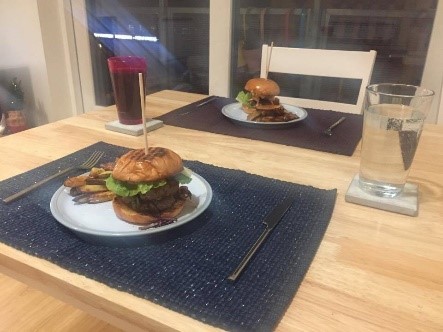 I honestly, slightly burnt the chips, but that's ok because we do love a bit of crispy chip! We also love a bit of spice, which means we added some chilli flakes of our own to the meat mixture which really gave the whole meal a kick, but my god it was good!
Family rating: 8/10
RECIPE 2
The risotto- oh wow!
Normally a good batch of risotto takes me an hour to concoct and (because I'm a genuine cheese addict), about half of Italy's Parmesan reserves! Not this one though – I managed to knock this up within half an hour including the prep and quite frankly, I was incredibly impressed with the taste!
Again, here is where we started: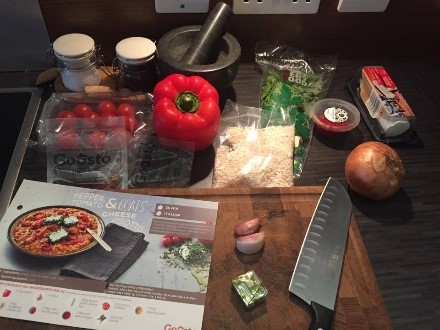 And here is a lovely picture of what I ended up serving: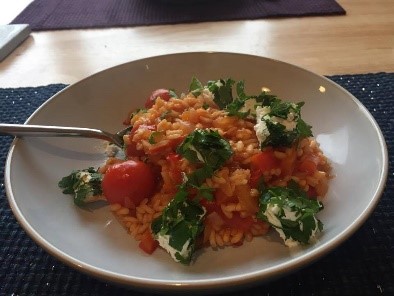 My only advice would be to be careful with the sugar content of this dish, simply because you are roasting sweet veggies with sugar. I added a bit more salt towards the end of the cooking process to cancel out what I felt was a slightly overly-sweet taste! That and, the finished photo above was a revised picture taken after I was told off a little bit of sticking half a log of cheese onto my own dish… I did say I was a cheese addict!
Family Rating: 7/10
RECIPE THREE
I had a very serious (not very serious) finger injury as soon as I started trying to make this which means that my only picture for this dish was half way through the prep (when I had taken care of my cut with a large(ish) plaster).
What I will say, is that I started out fairly sceptically, I adore cashew nuts, but generally in the form of dry roasted, covered in salt and shovelled into my mouth in ginormous handfuls. That being said, I was incredibly surprised that this dish packed a massive punch of flavour that I just adored!
The prep for this dish took a little bit longer as you're told to finely dice carrots and courgettes and they're just fiddly as anything! That being said, the time spent on it really was worth it – this dish was BY FAR my favourite! With soy, chilli flakes and nuts included, my time with Gousto really did end on a high!
Here is the picture of half way through my cooking: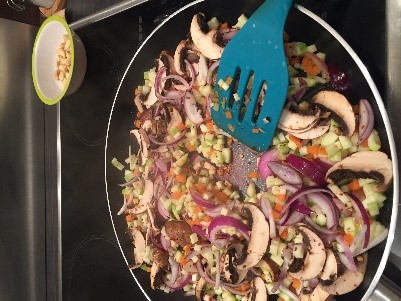 Please note the cashew nuts sitting out patiently… I didn't eat them whilst cooking which I normally would have done. If anybody knows, that whole 'eating a snack whilst cooking a snack' thing goes really well with my lifestyle!
Honestly speaking, I would make this over and over again. It's got homely vibes to it that really makes me crave it when the weather is cold and you just want a bit bowl of comfort food. The portions were also HUGE. I managed to feed myself three times with just one portion, so you really can't go wrong there!
Family Rating: 9/10
I don't actually think I could recommend Gousto boxes highly enough. Coming perfectly packaged and inclusive of everything down to miniature pots of honey, all you have to have in your house is salt, pepper and a bit of sugar!
If you don't like the sound of these recipes, but you're excited about the concept, or if you just want to go ahead and order your box straight away, visit https://www.gousto.co.uk/menu - are you a Kids Pass member? Get an incredible discount on your first box! Click here to see the offer.