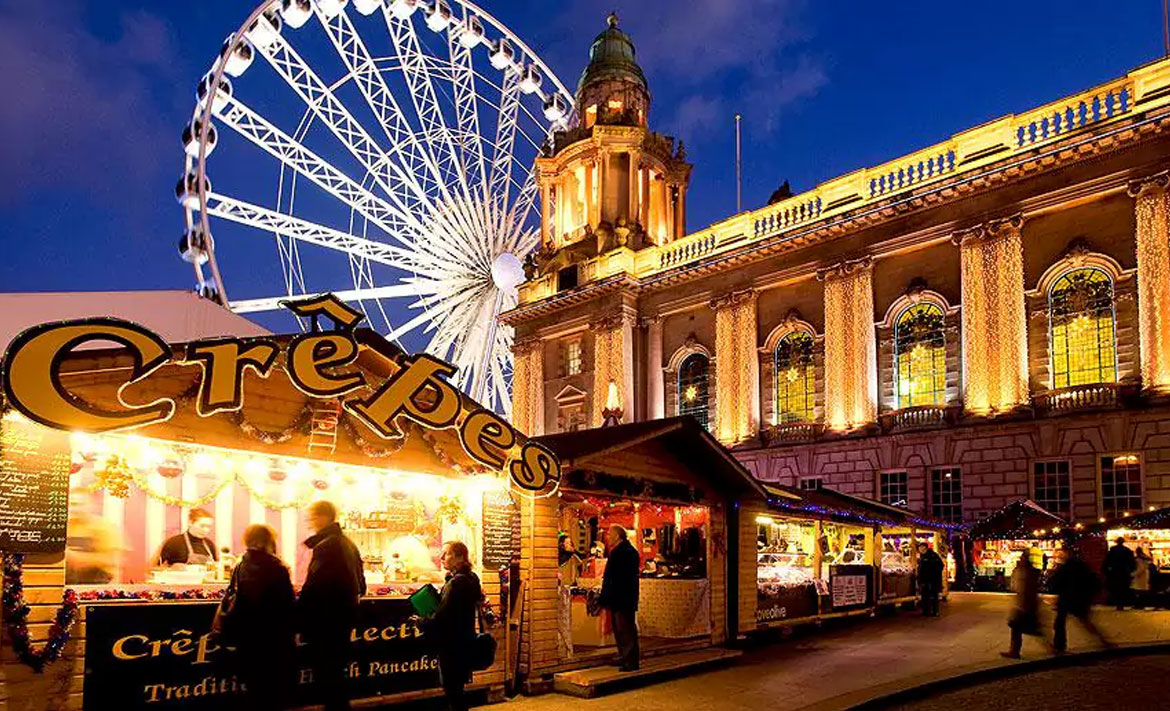 Christmas really is the most magical time of the year and whether you celebrate the tradition or not, you'll be bound to want to visit some of these markets.
If you're dedicated enough to one particular market to travel and visit, or if you're standing strong with your local market, why not take a peak at our definitive list of amazing Christmas markets… I'm going to call this a Christmas food bucket list to be honest, because the food is the only reason that I go to those markets (well, that and the mulled wine). 
10. York Christmas Market (November 17th – December 23rd)
York's Christmas chalets this year will offer a wide range of food and drinks available! Noted as York's ultimate Christmas experience, you'll be able to get gift inspiration, plenty of food and drink and of course, a couple of little treats for yourself! 
Do you live in York? You'll be amazed at how many offers we have available for our members! Why not check them out here?!
9. Exeter's Christmas Market (November 19th – December 18th)
Exeter's locals come out and showcase their produce for just under a month! Get all of your trinkets, gifts and Christmas dinner treats (or pick up some of those biscuits that you just can't put down even though you're about to pop!) For all local produce and incredible tastes, just head on down to Exeter's Christmas market.
Kids Pass partner with a wide range of attractions, cinemas and restaurants in Exeter! You can view our full of offers here or if you're not a member, why not download our app and you can view them all as well!
8. Cardiff's Christmas Market (November 10th – December 23rd)
Cardiff's market offers more art culture than many of the traditional market stalls. With local artists and photographers showing off their talents, you can find original artwork for a brilliant Christmas gift, or a little stocking filler! If you don't want the fun to end in Cardiff's city centre, why not head on down for a bite or a movie, on Kids Pass - we have some brilliant offers in Cardiff that you'd be crazy to miss out on, while you're there! 
7. Glasgow's Christmas Market (November 10th – December 29th)
Enoc Square's international Christmas Market brings an incredible selection of stalls! With incredible food on offer to warm you up on these cold winter evenings, there are also funfair rides to get that blood pumping! You'll also find all you need for your Christmas shopping!
After a tiring day of shopping, why not treat the kids, the husband or the wife to a lovely meal at one of our participating restaurants! You'll be stuck for choice with your Kids Pass. Check out the availablility here (and you can even top the day off with a film too!)
6. Manchester Christmas Market (November 10th – December 20th)
With markets spanning from St Ann's Square to Kings Street and Exchange Street to Brazennose Street, you're bound to find exactly what you're looking for (and probably a million things that you didn't want but all of a sudden, need!) 
If you're based in Manchester, why not keep the gfood times coming with your Kids Pass membership. We have over 150 offers in the area (that you can check out here) so you don't just have to stop off at the Christmas market! You can grab a bite to eat on Kids Pass too! 
5. Belfast's Christmas Market (November 19th – December 22nd)
Transforming the City Hall gardens into a Christmas village, you're bound to find plenty of treasures for you and your loved ones!
Why not fill your boots with the free samples of all the goodies on offer! Belfast's delights don't just stop there, Kids Pass have teamed up with restaurants and cinemas in belfast for you to enjoy!
4. Birmingham's Christmas Market (November 17th – December 29th)
The Largest German market held outside of Germany and Austria has landed in Birmingham! The Frankfurt Christmas Market is home to the best atmosphere around and with traditional gifts and food available throughout the day, you're bound to be fed, watered and shopped out! 
3. Edinburgh's Christmas Market (November 19th – January 7th)
Whether you're going for the traditional Scottish market or the European markets, you're going to be blown away with the selection of food, drinks and trinkets on offer! Be sure to wrap up warm and definitely make sure that you're ready to sample some mulled wine, cider or Gluhwein! If you're not a fan of staying out in the chill, why not head on down to one of the restaurants that Kids Pass have offers with and enjoy a tasty discount with your meal! 
2. London's Christmas Markets (November – January)
London has quite possibly the most concentrated amount of Christmas market locations than any other city in the UK. While the dates vary, there's one thing for certain and that's the inevitability of finding some amazing things! Why not top the magic off with a trip to London's spectacular theatre scene! Your Kids Pass membership has you covered, check out our offers here!
1.Bath's Christmas Market (November 24th – December 11th)
170 stalls will line the streets of bath for three weeks as the Christmas market returns to steal the top spot. Mix your shopping with your sightseeing and wander around the historic Baths and the spectacular Abbey.
Enjoy the fantastic range of ceramics, homeware, games, toys and clothes whilst your shopping and treat yourselves to a sampling of the delicious food and drink on offer to all. If you're not too full, Kids Pass have partnered with a number of incredible restaurants around Bath. Treat yourselfs to a tasty top off with your Kids Pass membership! Take a look at where you can head off to here!