Blackpool Zoo
Blackpool Zoo is a reference when it comes to zoos and wildlife parks in the North West. The park has been open to the public since 1972 and it remains one of the most popular and favourite spots amongst those who visit the seaside town of Blackpool.
Extending over 32 acres, families travel from across the country to spend a day or two getting to know more about a varied range of wildlife. At Blackpool Zoo, visitors will find plenty of exhibitions and activities to engage with, including walk-through aviaries, dinosaur safari (think Jurassic Park without the chase), children's farm, and so much more!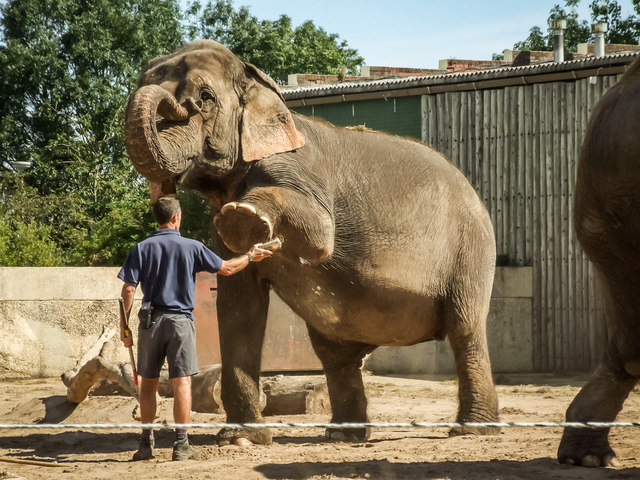 2020 Main Exhibits, Attractions, Animals and Activities
Project Elephant Base Camp
This magnificent project opened in Marc 2018 and it is the single biggest investment in the history of the Blackpool Zoo. The complex protects and showcases the lives of six beloved residents of the zoo: Kate, a 49-year-old elephant who's been a part of Blackpool Zoo since 1972, along with her 5 new companions, females Esha, Minbu, Tara and Noorja. The latest arrive to the "team" is Emmett, a bull elephant. The base camp was especially designed around the needs of the mammoths and its indoor area is currently the largest in the UK, with state-of-the-art facilities and equipment. The Base Camp is part of Project Elephant, an initiative in animal care which envisions the conversation of iconic species.
Giraffe Heights
Opened in 2008, this exhibit is home to four beloved female giraffes, the tallest of all land mammals. In an airy and carefully designed environment, visitors stand at ground-level to fully absorb the proportions of these beautiful animals, as well as head-level to have a close look at their outside walks.
The experience is topped up with a feeding platform on the higher level. With the help of Blackpool Zoo's generous staff, visitors get to participate in magical moments. Look into their eye and bond with these magnificent creatures whilst you learn more about them. Let them feast on fruits, vegetables, alfalfa and their favourite, onions!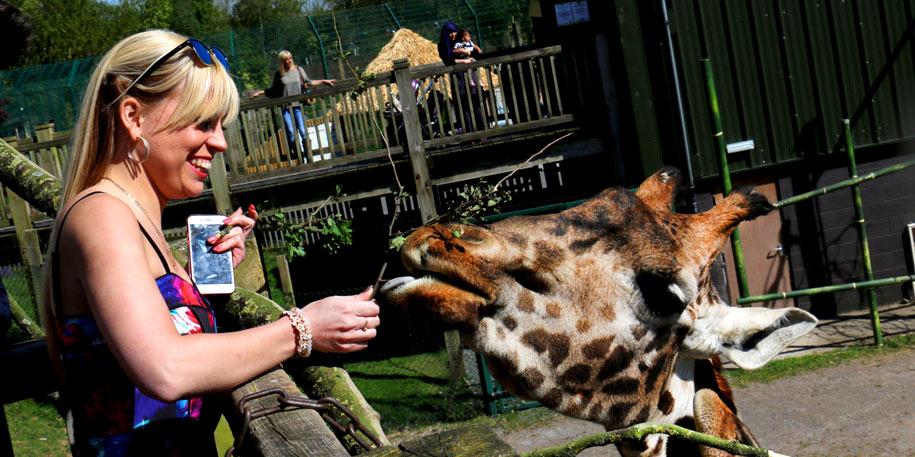 Animals
Blackpool Zoo is home to over 1,300 animals. Classified in three main categories, visitors get to observe and learn more about mammals, birds and reptiles. Watch the opulence and majesty of many animals, including:
Amur tiger: Aylona, a beautiful female Amur tiger, is one of Blackpool Zoo's, is one of the most imponent residents of the complex. Originating from Northern Asia, the species has been on the edge of extinction due to intensive hunting in the area.
Western lowland gorilla: perceived as vicious animals, gorillas are actually very peaceful. Led by an adult male known as a "silverback", they live in small groups. Get to know this very special group comprised of Bukavu, the silverback, Miliki and her daughter, Meisie & her son Makari, Njema and Moanda.
Aldabran tortoise: Darwin is well known by all visitors of the park. Part of the largest species of land tortoise in the world, they reach up to 250 kg. Darwin loves watermelon but its diet also includes weeds, vegetables and browse. To maintain an optimal environment, they live in premises with air conditioning and heating, along with a pool cooling-off dives in the summer.
Caribbean flamingo: these majestic pink creatures that can be up to 1.4m tall will brighten up any rainy day at Blackpool. Originally from muddy, swampy area of Central America, they can live up to 40 years and only lay one egg per breeding season. They are omnivorous in the wild but in captivity they are feed flamingo pellets to guarantee their distinct pink-like colour, the same way their diet determines their pigment in the wild.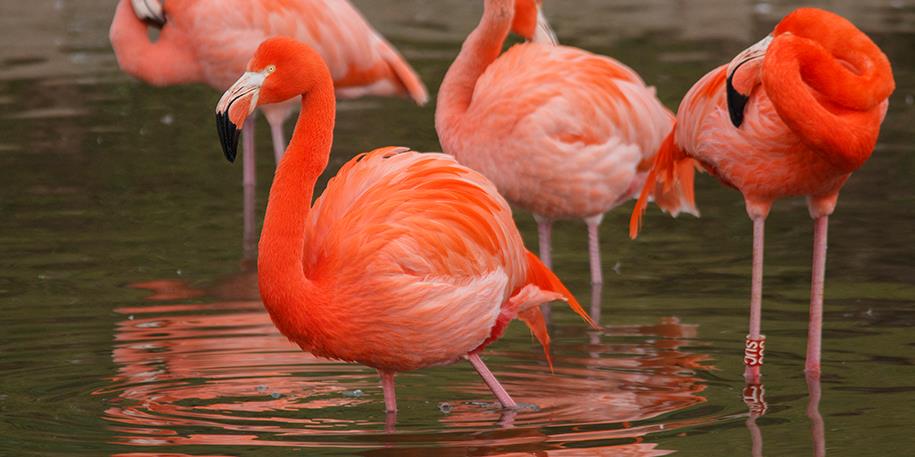 Talks
At Blackpool Zoo, visitors can learn more about different animals. Many talks are presented at different times of the day during weekdays and weekends. Learn about penguins, orangutans, elephants, felines and more. Note that talks and feeds are subjected to weather and staff availability. Delay and cancellations may occur without prior warning.
Blackpool Zoo Offer
As a Kids Pass member, you get up to 28% off entry. Even better, these tickets are open date, so you can visit any day within 12 months of purchase. Blackpool Zoo is open every day except Christmas Day, from 10 am. Closing times vary. Kids Pass suggest double-checking operating times in case of exceptional circumstances.